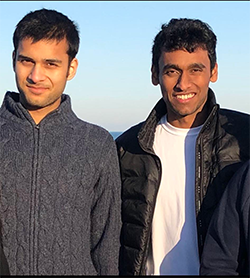 Utkarsh Mishra and Karan Bhasin are rising juniors at Northwestern University, both age 20, both majoring in computer science—Utkarsh with an entrepreneurship minor and Bhasin with a minor in economics. For an entrepreneurship class project this past January they researched the homecare market and potential gaps that needed filling. 
Settling on the common and complex situation in which multiple family members and often a paid caregiver care for one or two older adults, they have created an app called Homecare Now that they hope will smooth out that process, cut back on familial/sibling/caregiver misunderstandings, and in the end improve care for older adults. 
Both men have grandparents who require ongoing care, so they are familiar with the caregiving challenges involved. But also, they interviewed people working for Chicago care agencies, older adults, families and even Northwestern faculty caring for older parents—all to hone in on what matters most to caregivers, and where the toughest problems lie. 
"We found the homecare market to be severely underserved, there are lots of problems arising and a need to provide solutions to better equip the industry," said Mishra. 
The app they designed streamlines communication between families of older adults and their caregivers, or between family members. Family members can create accounts for themselves, other family members and for paid caregivers. Once on the app family members can assign tasks to other people, who can then check off the tasks as they complete them, send reminders and create unassigned tasks that are up for grabs. 
Example tasks might include, "pick up dad from the airport at 11," or "pick up mom's prescription at some point on Friday." The app recommends tasks in case new users aren't quite sure what makes sense. 
Caregivers can also take notes on their care receiver's condition, and keep track of data such as blood pressure and how the older adult is doing emotionally (which could be a daily update), so that when one of the paid or family caregivers accompanies the older adult to the doctor any one of them could view the data and share it with the physician. 
Lots of things can happen when caregiving, so with the app you can ensure the best care for your parent," says Mishra. "We're working hard to make sure everyone is on the same page at all times. From our research we had found there were lots of text messages sent, and lots of data got buried under in the reams of texts—there was lots of miscommunication," he adds.
The designers think the ability to check off tasks as they're finished introduces a sense of accountability—when family members or caregivers are aware that someone is tracking task progress, it enforces a sense of responsibility and the tasks get done. 
Currently, the app is being offered free of charge as Mishra and Bhasin hope to interview users to figure out which features they like most in order to consistently improve the app and then possibly charge for it when it has been perfected. Or they may look for funding from care organizations.
They're also working with insurance companies to make the paperwork surrounding hiring caregivers less taxing on families, who need reimbursement for caregiver services. The app will track what a paid caregiver did that day and that information can be turned over to Medicare for reimbursement.
Homecare Now also is partnered with a care organization in India known as Samarth. Case managers, who work as the go-to contact for older adults and their families, create profiles on the platform and share information with families. As the app tracks and demonstrates to the family tasks paid caregivers have performed during the week, it again helps to build accountability. 
Mishra and Bhasin currently are seeking insurance providers and care organizations in the United States to help them test the app, to study impacts of Homecare Now on the lives of caregivers and families, then collect data to demonstrate the app's effectiveness. 
"We want to show people that this app does improve the quality of care, and takes away stress from family caregivers," says Mishra.