As schools and communities around the country grapple with the question of whether or not to open for in-person learning in the fall, we thought we'd check in with a family, and recently spoke with members of a multigenerational household in North Carolina. Camerina Nava Gutierrez has lived with her daughter, Kimberly Nava Eggett, and her family for eight years. Kimberly, a teacher, has two children in elementary school. 
In this video Camerina and Kimberly discuss how they talk to the kids, who are ages 8 and 5, about staying safe, their concerns about returning to the classroom and how they are managing during the pandemic. 
 

As school districts weigh the risks of in-person learning, the American Society on Aging urges everyone to keep our diverse, multigenerational communities in mind. We know that older adults, particularly  those with comorbidities or compromised immune systems, are vulnerable to COVID-19. 
Some statistics to keep in mind:  
64 million people live in multigenerational households in the U.S.–that's 1 in 5 Americans
18 percent of teachers are older than age 65
27 percent of principals are older than age 65
2.7 million grandparents are raising grandchildren nationwide
16.8 percent of American adults are providing care for someone older than age 50. This means that about every sixth school employee is caring for an older adult at home
Raise Awareness on social media by downloading and sharing these images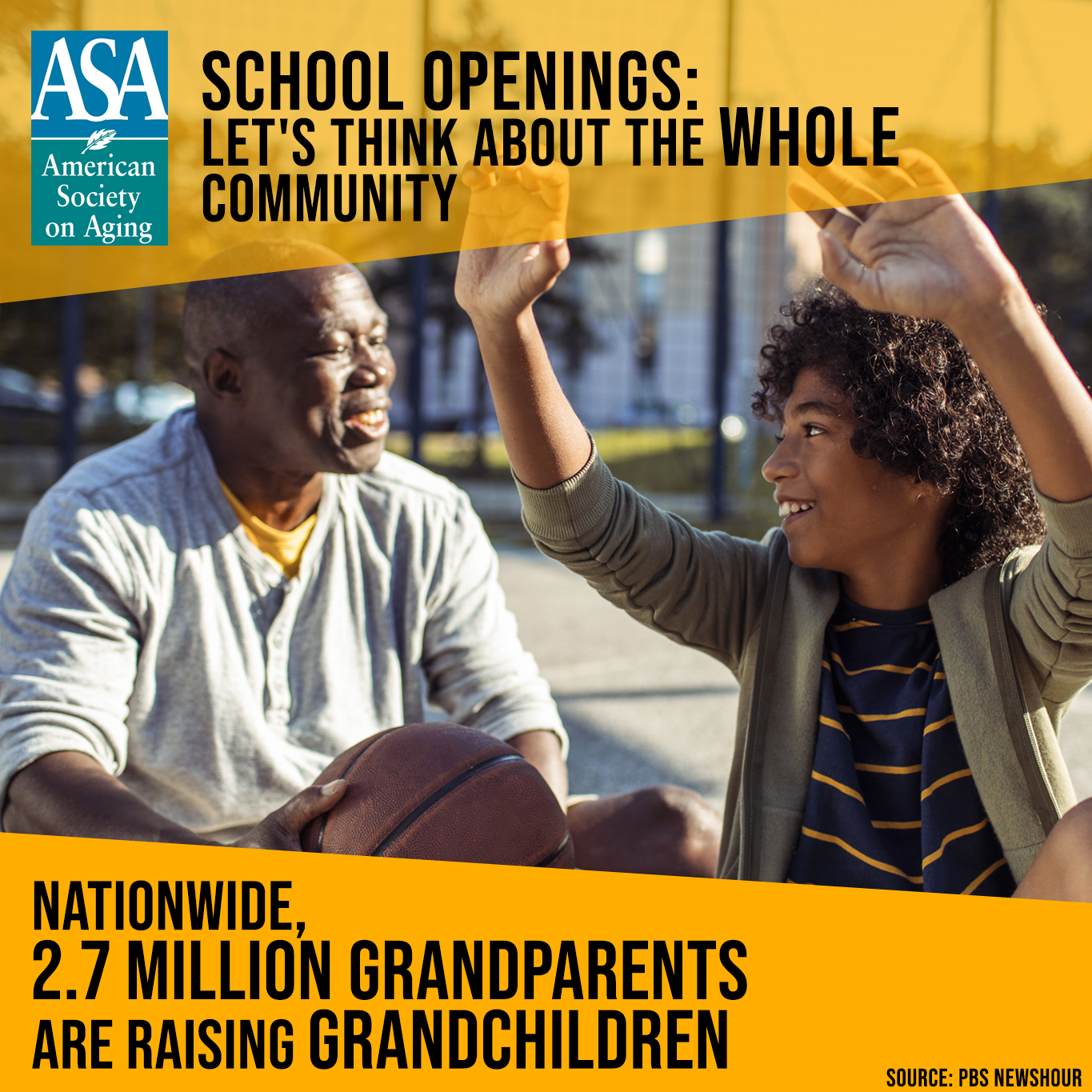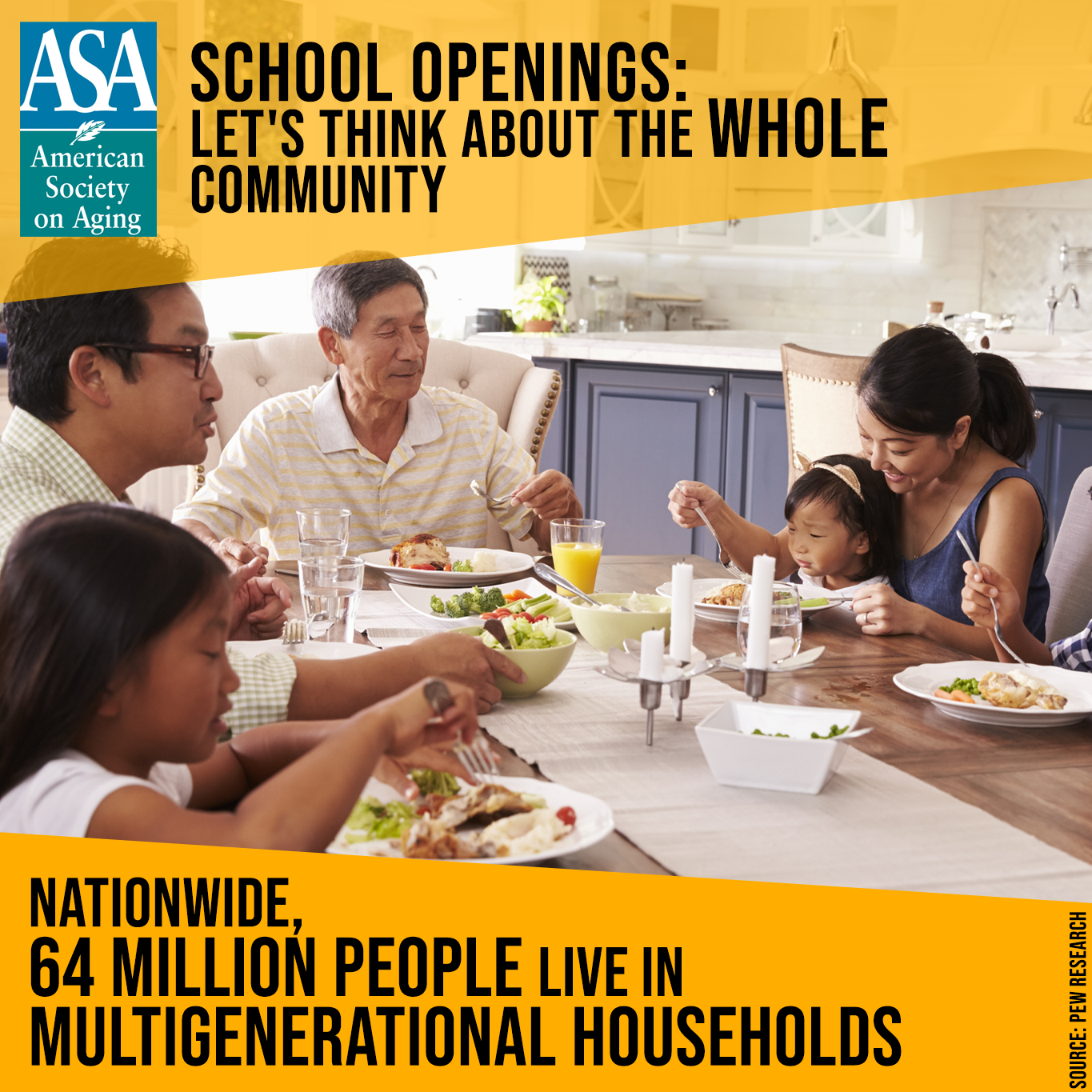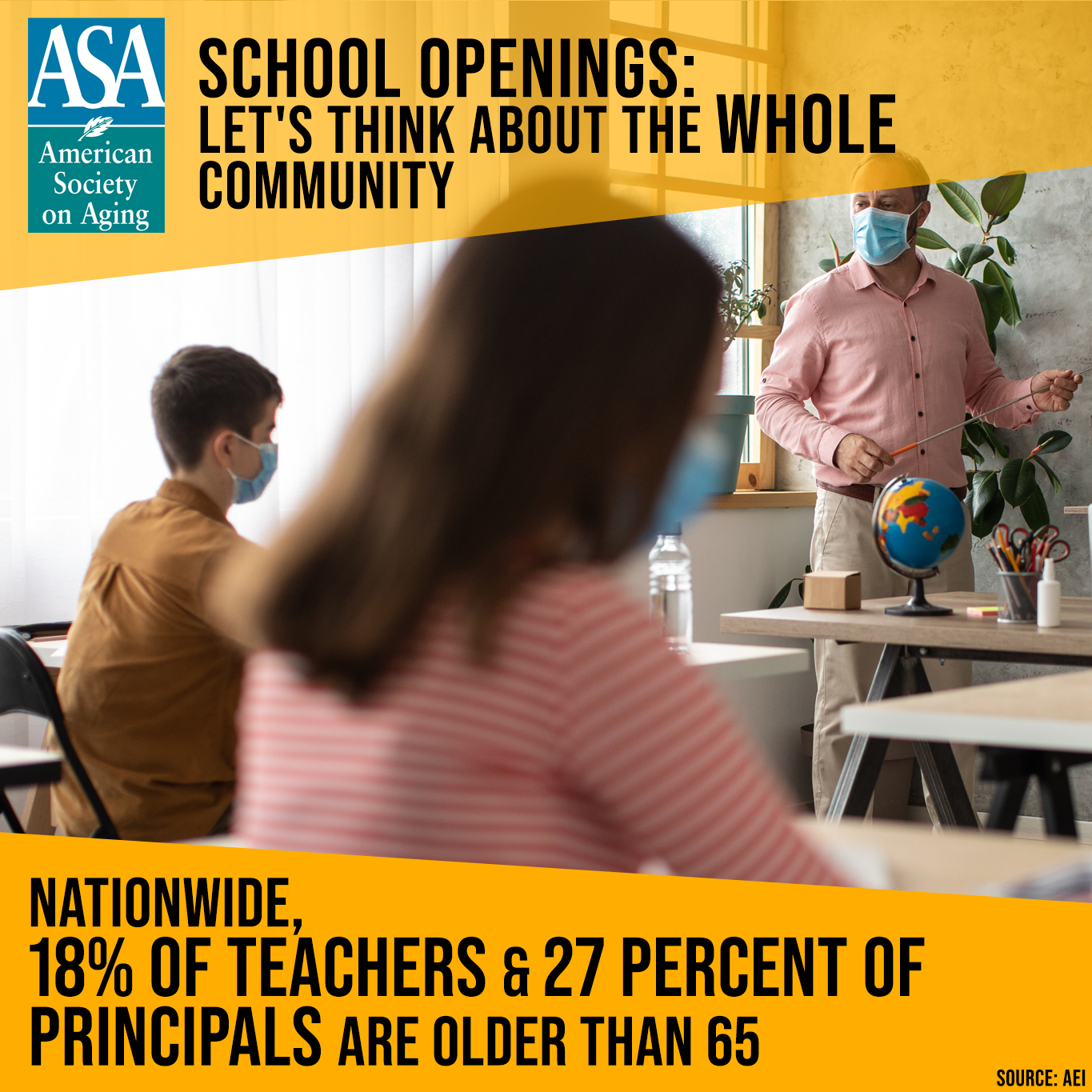 Video Transcript
Kimberly Nava Eggett  0:14  
My name is Kimberly Nava agate and I live in Asheville, North Carolina with my lovely mom.
Camerina Nava Gutierrez  0:20  
My name is Camerina Nava Gutierrez, thiers. And she's my daughter, my oldest daughter.
Kimberly Nava Eggett  0:31  
It's funny, like, someone asked me in my 20s if I would have my mom lived with me. I would be like what? My mom lived with me. That's not what we do. But it is what we do in certain cultures, right? But there are other cultures. So my American side of me was having a hard time understanding that but my Mexican side was like, "Oh, wait, but that's how I grew up too." My grandmother was in my household. 
And so having to navigate being in a pandemic, but also having to ensure that my kids are still getting some learning done was a struggle. My role at our elementary school is digital lead teacher. So I'm also the point person of support for technology. So, as you can imagine, my days were filled with people just trying to figure out how to do Google Meet and what that look like with their classrooms.
Camerina Nava Gutierrez  1:27  
I just tried to keep him busy doing some activity or playing with them. And and I just tried to do what I can, you know, maybe cooking, cleaning, you know, so she can focus on whatever is most important for her, you know.
Kimberly Nava Eggett  1:50  
We had to be okay with the fact that my kids weren't getting what they needed to educationally because they're getting other things that we wouldn't have gotten. They wouldn't have that time with their grandma to be able to just sit and paint.
As of right now for the district I work with we're looking at starting off with a staggered start. So when kid goes in for one week, and then they have a full week off, and at that "off" supposed to be at home learning. And that is a source of stress for me as a teacher, because I still have to report to work every day.
Camerina Nava Gutierrez  2:30  
My concern is when they go... the truth is a lot of families, they don't take care of themselves. So when they send their kids to school, it's gonna be a different picture. I'm just concerned that it's gonna be kinda
Kimberly Nava Eggett  2:52  
Families with different expectations or rules.
Camerina Nava Gutierrez  2:56  
Yeah, so I really cannot even picture it because it's just so hard either way. Yeah. So hopefully w'ell be okay.
Kimberly Nava Eggett  3:10  
You know, at our at home we've built some really good habits where every time they come in from outside even if it's just by themselves, they come in and wash their hands. That's just been a routine for them. They know every time we leave the house we have our face masks on. So for my kids putting on a face mask has been as I can is a habit.
Camerina Nava Gutierrez
Like a a routine. 
Kimberly Nava Eggett
It's really weird to hear a five year old say, "6 feet 6 feet!" you know, yelling at a friend but it's something that they're hearing. Whether or not they actually know what six feet looks like, that is a different story. But it's that messaging that we're trying to help. 
I know we have older teachers and I know there was one teacher that said I'm so glad I retired last year so I don't have to worry about this because her brother's auto immune compromised. We had a teacher, she's a younger teacher, but she takes care of her mother who has health issues. And she went ahead and resigned last week and found another job as a remote learning teacher with some sort of national program. And so folks are having to make decisions and we're losing staff. 
I can't even imagine how I would feel if she were not in our home during the pandemic, at least I know, health wise, how she's doing. I there wouldn't have to be this distance between us because I know there's some families who haven't been able to see their grandparents because they're not living with them or because of their health situation. So I am pretty grateful. Even pre pandemic, just the economic downturn has also causedfamilies to become more intergenerational and that being more of something that we're seeing in families because safety nets are there like they used to be. And so it's worked out for us and so we, when we encourage other people,
Camerina Nava Gutierrez  5:21  
Yeah, I'd like to say, I never thought I was gonna be here with them. I'd say no, they need to have this, you know, space but sometimes life turn around. Like she said, I am so grateful to be with them and to see the grandkids every day.